Get to Know More About Rhône
---
---
Get to Know More About "Rhône"
"Rhône" is also known as one of France's oldest wine-growing regions and second largest producer of AC wine after the Bordeaux region with 71,000 hectares of vines planted! The Rhone region is located in the South-east of France between Lyon and Marseille.
The valley stretches over 200 kilometers, divided into 2 sub regions which are Northern Rhone and Southern Rhone. The Rhone Valley has a continental climate with harsh winters influenced by the Mistral wind, a strong cold dry wind that blows down through the Rhone Valley to the Mediterranean, causing a significant drop in temperature, wind damage, unusually sunny weather, and hot summers.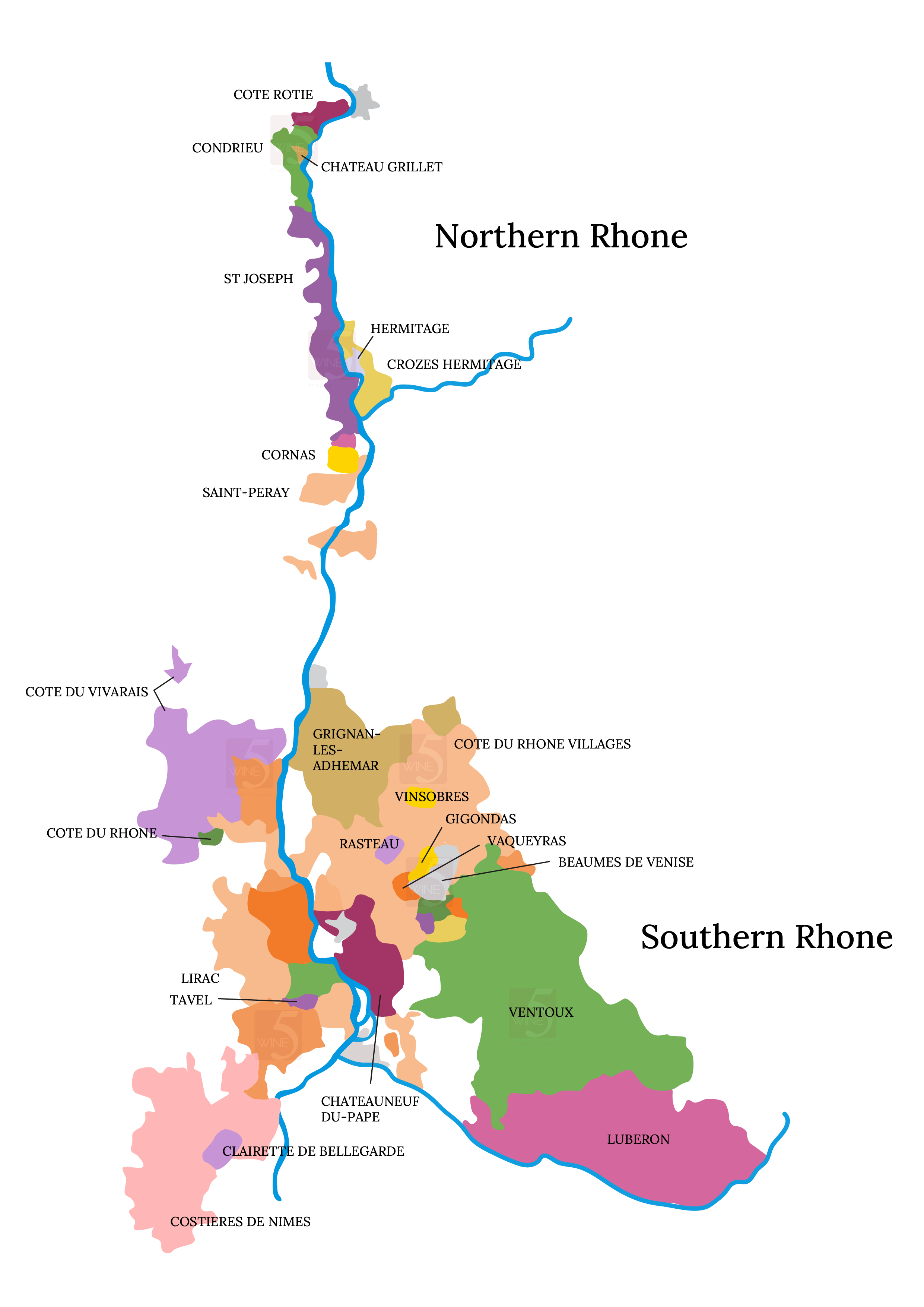 What is the difference between Northern Rhône? VS Southern Rhône?

"Northern Rhône" has a steeply terraced hillside terrain and the weather will be more continental climate (colder winters, longer-lasting snow and warmer in summer) than the Southern part. The vineyards in Northern Rhone will typically plant on the sloped area where grapes receive maximum sunlight. This area is rich in granite soil mixed with stone, shingle and clay and produces only a few grape varietals, mainly Syrah and Viognier (only can be produced in Rhone!) Harvesting with machinery is difficult on the Northern side according to the terrain so the grapes are mostly hand-harvested!
The appellation in Northern Rhône : Côte-Rôtie AOC / Condrieu / Château-Grillet AOC / Saint-Joseph / Hermitage / Crozes-Hermitage / Cornas / Saint-Péray.
"Southern Rhone" has a Mediterranean climate, hotter and drier than Northern Rhone but milder in winters. This Southern part has been formed by erosion, giving distinctive peaks, slopes and has a lot of clay, limestone, sand, and terraced soils. The Southern Rhone is a huge, diverse, viticultural area that plants up to 13 varieties of grapes; which has Grenache as a dominant grape. Well-known in making a wine with blended types of grapes. The Southern Rhone is a home to "Châteauneuf-du-Pape", the renowned historical sub-region that produces the most famous and best wine in Rhone!
The appellation in Southern Rhône : Chateauneuf-du-Pape / Tavel / Lirac/ Rasteau/ Beaumes de Venise / Vacqueyras/ Vinsobres / Cote du Vivarais / Grignan-Les Adhemar / Cote du Ventoux / Cote du Rhône Villages / Cote du Rhône / Costieres de Nimes / Muscat de Beaumes de Venise.